This past Sunday I went to the Chocolate World Expo.
I'm just gonna let that sink in for a minute.
Yeah, it was pretty great.  What wasn't great was the HOUR AND A HALF WAIT.  That was pure shenanigans.  As you may or may not have noticed, I've been grossly neglecting Ask the Fatty! for literally years.  My detailed thoughts on the chocolate and wine and hot sauce (!) I tried at the expo will be posted there.  It will be a grand and glorious re-launch of a site that you'd think would be easy for me to maintain.  I mean, come on, I eat all the damn time!  Whenever I have a Sunday Funday I usually am at some place that is new and exciting or at least worthy of a write up.  Fatty likes his food, and there's been no shortage, let me tell you.  In any event, I'll go into detail about the taste sensations of the expo itself there, either tomorrow or the next day.  Think of this post here as a companion piece to that, a sort of commentary track or deleted scene type of thing.
So, about that wait… it was really something.  The event was at the Cradle of Aviation Museum in Garden City.  Normally, I'd probably end up on the Meadowbrook at some point to get there, but we took an alternate route since we were coming from breakfast and a few errands.  It's a good thing too, because when we got to the last intersection before the museum, the cross traffic that we were turning into was epic.  The line of bumper to bumper cars waiting for the light to turn was at least a half mile long.  I wish I thought to take a picture of that.  It was quite a sight!  We didn't have to wait through that, thankfully.  There was a bit of a wait to get into the parking area for the event due to the volume of cars, but that wasn't more than 5 to 10 minutes.  However, the walk from where I was parked to the end of the line was a good 5 minutes.  And that line… well, a picture is worth 1000 words, they say, so how about this (FYI, long load time for this pic):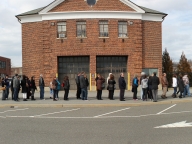 Yeah.  Shenanigans!  It took four pictures (4000 words?) from my T2i to capture the whole thing.  Now, if I'd been thinking, I'd have just used the panorama setting on my Galaxy Nexus, but no, I had to do things the hard way.  While we were waiting at the ass end of the line, I snapped these pictures of this artwork on this busted looking warehouse we were standing next to.  I especially like the one with the little kid frolicking.  I also grabbed a few shots of the strangely decrepit state of the next building we (very slowly!) passed while waiting on line.
[nggtags gallery=chocpost1]
Anyway, an hour and a half later, we were inside.  We were treated to this sight while waiting to get past the wildly rude octogenarian guarding the ticket booth:
[nggtags gallery=chocpost2]
Not a huge place, but pretty nice.  I was inordinately giddy at the Blue Angel plane hanging from the ceiling.
[nggtags gallery=chocpost3]
We walked, we sampled, we purchased.  I, however, did something odd and unbelievable.  I walked out of that place and didn't buy a single chocolate based item.  Not one.  Instead, I bought this:
[nggtags gallery=chocpost4]
Yeah.  Leave it to me to find motherfucking hot sauce at a motherfucking chocolate expo.  I don't know whether to be proud or disappointed.  Perhaps both.  For whatever odd reason, there were almost as many wineries there as there were chocolatiers.  I'm not a huge fan of wine, but maybe I've never tried the right one before.  The bottle you see in the above pic is a Riesling and I loved it!  I'm looking forward to trying that on a nice evening with a good meal that I've cooked for myself (or Taco Bell; you know, whatever).  Speaking of booze, I'm drinking some Blue Moon Winter Abbey Ale right now and this has got to be one of my favorite beers.  I wish they made it year round.  I've yet to try the new Spring blend, but I'm sure you'll hear about it when I do.  I also used this post as an excuse to take the above pictures of my haul.  I fiddled around with some settings on the camera (focus and depth of field, mostly), so if anyone has any thoughts/comments, please feel free to let me know.  I want to get better with this camera, and the only way that's happening is if I keep at it.  Moar pictars!
While we were wandering around there, I saw this stuff:
[nggtags gallery=chocpost5]
I guess that sign was put up in a more optimistic era.  I've always dreamed of space travel, of landing on another world and breathing an alien atmosphere.  Meeting new life from a completely different evolutionary line.  Would it use DNA?  If so, would it use the same base pairs that life on Earth does?  Would it even be carbon based, water drinking, oxygen breathing?  Who knows, but I would LOVE to find out.  Even landing on a completely barren world would be a joy without compare.  Setting foot on a world that has been shaped by weather unknown to us here, like the methane rains of Titan would be an indescribable experience.  Maybe one day in the distant future, our descendants will get that chance.  But humans on Mars in the kind of time frame on this sign?  Not bloody likely, and that makes me sadder than I can say.  So much money wasted on so much pure garbage, and the sciences are continually shit on by people who don't understand how the most basic aspects of the world around them work, yet are somehow in charge of making budgetary decisions on who gets funding. This rant is better saved for its own post.
But that was our day at the Chocolate World Expo, in a nutshell.  Lots of fun times and endless shenanigans.  I've added all the pictures to my gallery both here and on G+.  A great day all around, and while I didn't get any chocolate, I walked away with booze and hot sauce, and that's never a bad thing!  I will leave you now with this bonus picture of the line to get into the expo, before smoothing out the rough edges.